Google to buy Nest for $3.2B - so?
Before we get started, lets get this out of the way - $3.2 BILLION AMERICAN DOLLARS. SERIOUSLY!? WHAT AM I DOING WITH MY LIFE!?
Alrighty, moving right along.
First and foremost, congrats to the team at Nest. This really shows what can happen when you focus on building beautiful products that cater to specific needs of your consumer. Gold stars to their designers, engineers and marketing teams.
More importantly, what does this mean for us? As much as Google just wanted to make it rain, there were bigger implications to this deal.  You've probably seen as of late the "Internet of things" has been a hot topic around the Internet water cooler (which will probably tweet someday).
This "Internet of things" describes a not so distant future where all of your devices are connected so they can work together to makes your life easier. Imagine, you leave work and your phone signals to your thermostat to turn the heat up. As you pull in the driveway the lights automatically come on. The minute you enter the door the oven starts to preheat for your dinner that night. At the same time, your fridge notifies you of food that you are low on - already anticipating what you will be making tonight. I for one can't wait.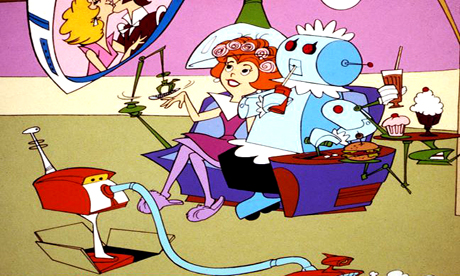 This is where this Google and Nest deal is very interesting. Nest currently has two great products on the market - a thermostat and smoke detector. Aka the definition of sexy. But, those two products are absolutely fantastic and make great use of the Internet as it is right now. The ony downside is Nest is only so big and needs to focus on making these quality products.
Now for Google. They have this great, open, mobile operating system that is on ~52% of all mobile devices. They are also one of the largest data collectors in the world and probably know more about you than your own Grandmother (I know, I know, she doesn't follow you on Twitter. Not your fault.) Google also has access to some of the worlds greatest resources on their engineering and Google Labs teams.
By layering Nest's superior products (and product pipeline) on top of Android's operating system and data we could really see significant progress towards our inevitable future of the connected home.  This also puts Android at a serious advantage to become the operating system of the future.  
What a fun next few years these could be.
-Ryan